Team Mica Fund Official Launch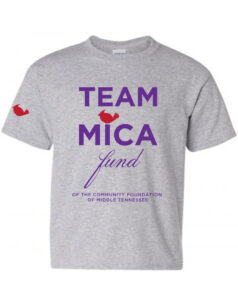 Join the Team Mica Fund for its official Launch in Bolivar on Saturday, March 9! (FREE Event)
Learn more about the fund, upcoming events, what we are doing to make a difference in promoting animal adoptions and raising awareness of suicide prevention, and what organizations we are partnering with this year! Hear from Hardeman Adoptable Animals and Tennessee Suicide Prevention Network about what they are doing in the community to help restore hope in the lives of others.
Refreshments will be served, and Team Mica T-Shirts will be available.
Minimum Donation $15 – Team Mica T-Shirt
(Shirts are a Gildan Softstyle and run rather small, available in the following sizes: Youth Sm, M, and L and Adult S, M, L, XL, XXL)
NOTE: If you are ordering a shirt and paying at the event, please message us your size, so we will have it reserved for you at the event. There will be a limited number available to purchase on that day.
To Pay by Cash or Check:
You can pay in cash/check when you pick up your shirt at the launch or drop off in an envelope for the Team Mica Fund at Hornsby Law Firm, 101 N. Main St., Bolivar, TN. There is a night slot to drop as well.
To Pay by Debit or Credit Card:
Please go to http://www.cfmt.org/attend/event/98/ to make your donation online.
The Team Mica Fund is a component fund of The Community Foundation of Middle Tennessee. We will make grants to area nonprofits that support our mission, which is to create awareness of suicide prevention through education, promotion, and counseling, as well as supporting Mica's love of rescuing and promoting animal adoptions.